Hi lovelies!
So here I am for the entry of today.
Day 1 – 10 things about your lolita bubble.
Day 2 – 10 things you love in lolita.
Day 3 – 10 things you hate in lolita.
Day 4 – 10 different kinds of food you like.
Day 5 – 10 items from your wishlist.
Day 6 – 10 things you can't live without in lolita.
Day 7 – 10 people who inspire your lolita style.
Day 8 – 10 songs that inspire you for lolita.
Day 9 – 10 things you will never do in lolita.
Day 10 – What's in your bag?
Day 11 – One day in your lolita life in pictures.
Day 12 – A picture of yourself before lolita came in to your life.
Day 13 – A picture of your favorite sweets.
Day 14 – A picture of your dream item.
Day 15 – A picture of your last lolita purchase.
Day 16 – Your outfit for the day.
Day 17 – What do you want more then anything right now?
Day 18 – A picture of your favorite lolita style.
Day 19 – What's in your make-up bag?
Day 20 – A picture of a lolita friend.
Day 21 – Your favorite fictional lolita.
Day 22 – A picture of your room.
Day 23 – A picture of your handwriting.
Day 24 – A picture of you from a meet.
Day 25 – Your favorite lolita themed artwork.
Day 26 – Your Facebook profile picture.
Day 27 – One song that fits your favorite lolita style.
Day 28 – A picture of the perfect lolita location.
Day 29 – A picture of a lolita you would love to meet for real.
Day 30 – A photo of yourself taken today and 3 good things that's happened over the last 30
days.
Day 2 - 10 things you love in lolita
This one shouldn't be too hard, ther eis a lot of things I love about lolita. So let's do this!
1.
I absolutely love that the poofyness of the lolita style. It feels so nice to wear a fluffy petticoat and move around in it or even sit. You feel surrounded by frills and poof! It also give a very nice shape to dresses and makes you look really good regardless of your body type.
2.
Like I mentionned the previous day, I love plushies. The stuffed animal bags in lolita is one of the things I adore about the fashion. When I wear lolita is the only time I feel like I can really carry a stuffed animal around without it being too weird or out of place.
3.
I love lolita meetings! It is a good occasion to make new friends who love the fashion and share common interests with you. I rarely go out so I always appreciate to have a reason to do so and going to a meeting is indeed on of the best reason possible. Almost every time we go to a new place and it makes me discover a lot of stuff that I would never have known otherwise.
4.
Food in the lolita fashion
is indeed very present.
It made me discover cupcakes, high class food and tea.
I couldn't be more thankful! Since I became a lolita, I've never tasted so much yummy food! Of course it can be expensive to go to a five star restaurant, but since it is roughly 1-2 times a year it's ok in my opinion. I also developed my sense of taste quite a bit and can finally eat more kinds of foods. I used to not like that many things and it was difficult for me to find interesting meals to cook. Now I'm trying a lot more recipes and I can even bake desserts now.
5.
An important thing about lolita that I like is the fact that it makes you feel beautiful and feminine. It gives me a whole new level of self-esteem than when I am dressed in casual clothes.
When I am dressed in lolita, I feel proud of who I am.
I don't care that much about people looking at me since I know that my dress i awesome and I am happy to wear it. And when you are many lolitas together, you feel and are invincible!
6.
I love the amount of details you can find on lolita clothes! It is always fun to take to time to look closely at your new dresses and accessories. I'm a very artistic person and I love when an item as a lot of details. I feel like well done details is a sign of great quality.
7.
Another thing I like about lolita is that it allows me to have girly clothes and jewelry without being told that it is for children. I always liked those and was sad to grow up and not be able to wear them anymore. But with the lolita fashion, I found a new way to give life again to my plastic jewelry and hair bows I had when I was younger... and also I can buy new ones of better quality with even cuter designs now! I'm always happy wearing big headbows and plastic accessories.
8.
The fact that you need to take care of yourself and do you make up and hair when you go out in lolita is something I also like. It feels good to take the time to make yourself look beautiful from time to time. I love doing my hair and thinking of new hairstyles and make up I could try for meet-ups.
9.
What I like the most to see on a dress is a cute print! I like the fact that there are a lot of prints on lolita dresses. I especially tend to buy animal prints, but I do like other ones too. The details are always so cute and lovely, or beautiful if it is something more elegant. I enjoy looking at the print of my dresses when I,m not wearing them, I try to find new details I hadn't seen before.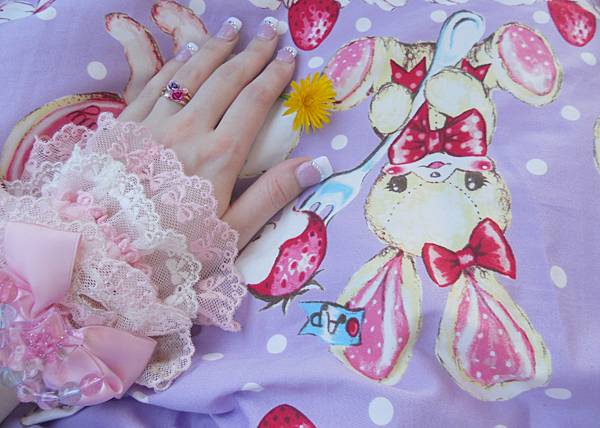 10.
And finally the last one! I love receiving packages by the mail. It feels like Christmas every time I receive a new lolita item in a big box or envelope. Who doesn't like to receive stuff and unwrap it?
That's it for today!
Stay tuned for tomorrow's meme!
*Kinerai*